The pneumatic 4 process nesting CNC machine is a multi-function automatic CNC nesting machine, which integrates cutting, chamfering, relief, hollowing, punching, slotting and other processes, while meeting the processing requirements of cabinet doors and cabinets, can realize automatic loading and unloading, save labor, and greatly improve the processing speed and efficiency.It has the advantages of low procurement cost, simple operation and complete functions. Four different bits can be installed to complete various processing functions, such as cutting, engraving and drilling at one time. It is equipped with auto loading and unloading tables. So it can load and unload the materials automatically. It is an ideal machine for large production enterprises, specially for making cabinet.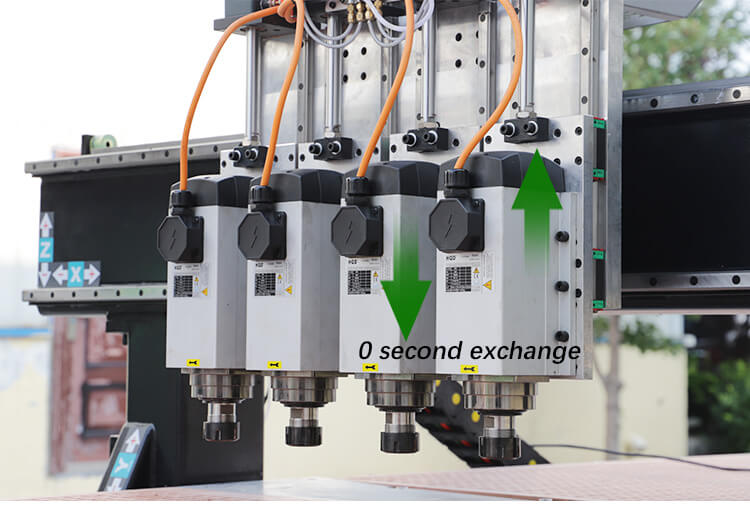 It can be used with edge banding machine, laminating machine, side hole machine and other machines to customize the whole house.
The CNC router for cabinet making relates to a four process double station double pusher material opening machine. The feeding machine consists of a working bench, which is equipped with a two working table along the length direction of the platform support at the top of the workbench support, and there is a Y moving mechanism above the bench bracket. The two transverse symmetrical Y to the rack in the Y moving mechanism is fixed on both sides of the platform bracket, and the transverse beam in the moving mechanism at the Y. The top is fixed with a X direction rack with a transverse setting of X to the moving mechanism, and a Z direction moving mechanism on the left side of the moving mechanism along the direction of the feeding, and the Z to the driving motor in the Z moving mechanism is fixed vertically on the X slide plate in the X to the moving mechanism, and the Z direction slide plate in the Z moving mechanism is equipped with a processing device. The opening machine can make maximum use of the working time of the opening machine, high processing efficiency, convenient feeding and unloading, and can avoid the droop of the drag chain. The cabinet making CNC router is suitable for kitchen cabinet making, cabinet door making, corner cabinet making, decorative cabinet making, home cabinet making, wall cabinet making, wood cabinet making, base cabinet making and other custom cabinet making in bathroom, garage, living room, and office.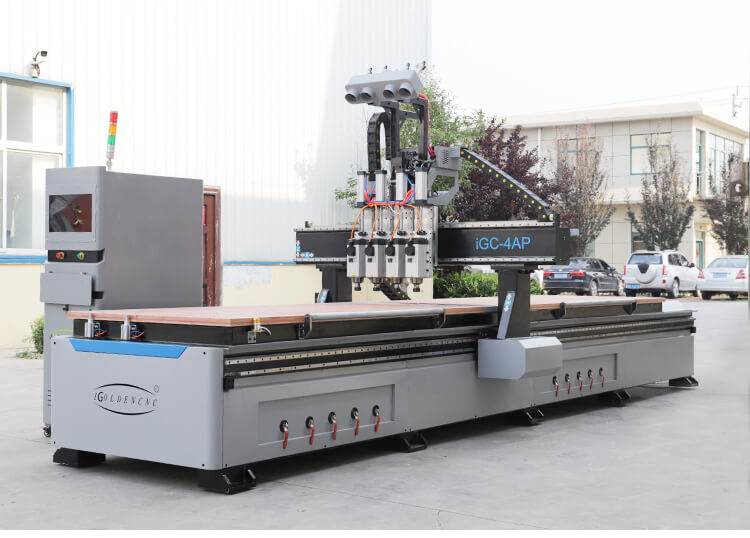 MAIN CONFIGURATION
Name

Manufacturer/Brand

Mechanical part

Body

Welded square pipe structure

Gantry

steel structure

spindle

HQD 9.0kw air-cooled spindle

Table

Vacuum adsorption table

Guide rail

TAIWAN HIWIN

Rack

TANWAN Xinyue

Screw

TAIWAN TBI

Circuit

Drive

Dongling drive

Reducer

SHIMPO

Inverter

Fuling

Electrical element

SCHNEIDER

Tricolour light

Yes

Cabinet

Igolden Independent cabinet

Set knife part

Tool setting gauge

Automatic tool setting gauge

Oil-way

lubrication system

Automatic oil filling

System control and software

Intelligent control system

TAIWAN LNC
Cabinets Making CNC Router Applications
Cabinet making:CNC router is ideally suitable for furniture decorations, musical instruments, wooden crafts, solid wood furniture, MDF door, wood composite door, cabinet making, kitchen cabinet doors, windows, tables, etc.
Decoration Industry:Art model, wall art, screen relief engraving and cutting, decoration processing, gifts wrapping, waved plate, electrical cabinets panels, sports equipment, and other industrial wood works.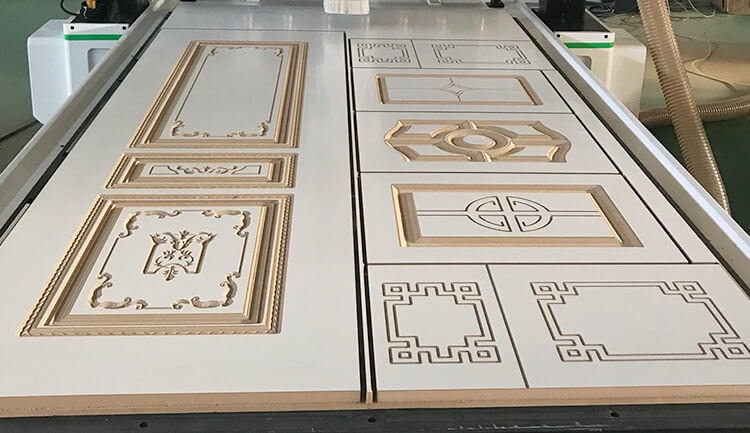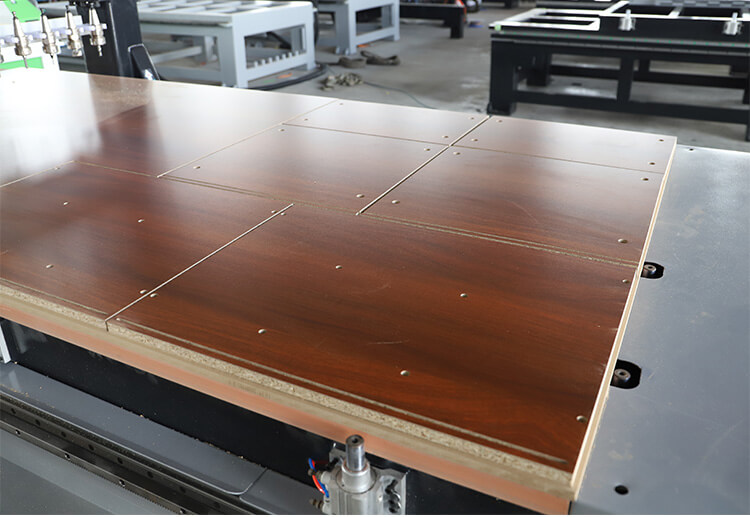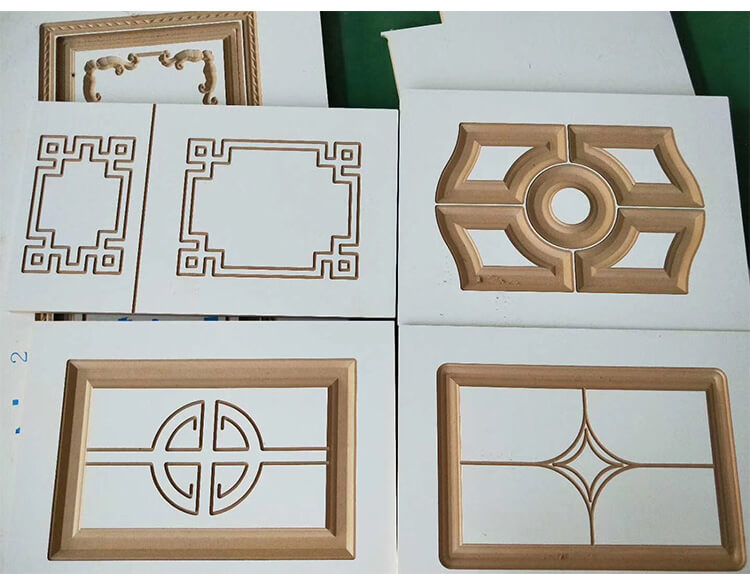 Kitchen Cabinet Door Making CNC Router Machine Advanced Performance
4 kinds of process switching processing, to achieve 0 seconds tool change, greatly improve the work efficiency.
Using HQD6.0kw air cooled automatic tool change spindle, long life, low noise, reliable quality.
IGOLDENindependent electric control cabinet, humanized design, Taiwan Baoyuan system, easy to operate.
Using Taiwan silver guide rail and crescent rack, high positioning accuracy, smooth sliding, reliable quality, long life.
Professional CNC Taiwan Baoyuan control system, easy to learn and easy to operate.
Can increase the automatic loading and unloading platform, save labor costs, fast cost recovery, meet the needs of the production line, automatic intelligent operation, efficiency is greatly improved.
The 4 spindle CNC router is very easy to use.You only need to save the position of the cutters in the tool path, then the system could realize the cutter auto changing according to the cutter code.So this four-axis CNC machine kitchen cabinet machine runs very efficiently and stably.