5-axis CNC stone cutting bridge saw is a specialized piece of equipment used for cutting and shaping stone materials, such as granite, marble, and other natural stones, with a high degree of precision and flexibility.These machines are a valuable asset for businesses involved in stone fabrication, design, and sculpting, as they offer precision, efficiency, and the ability to create intricate and customized stone products. When considering the purchase of such a machine, it's crucial to thoroughly research options, assess your specific needs, and budget accordingly.
5 axis CNC bridge saw is an automatic infrared stone cutter to make custom slabs and countertops for kitchen and bath including granites, modular granites, granite tiles, honed granites, engineered stones, laminates, soapstones, marbles, quartzites and other stones.For example, cutting and milling straight and inclined edges, chamfering, cutting arc edges, polygon, edge milling, edge tracking, and other powerful functions. The 5 axis bridge saw is widely used in the stone processing plants, kitchen countertop processing, background wall profiling, and other fields. It is the ideal machine for cutting stone slabs with different shapes and sizes.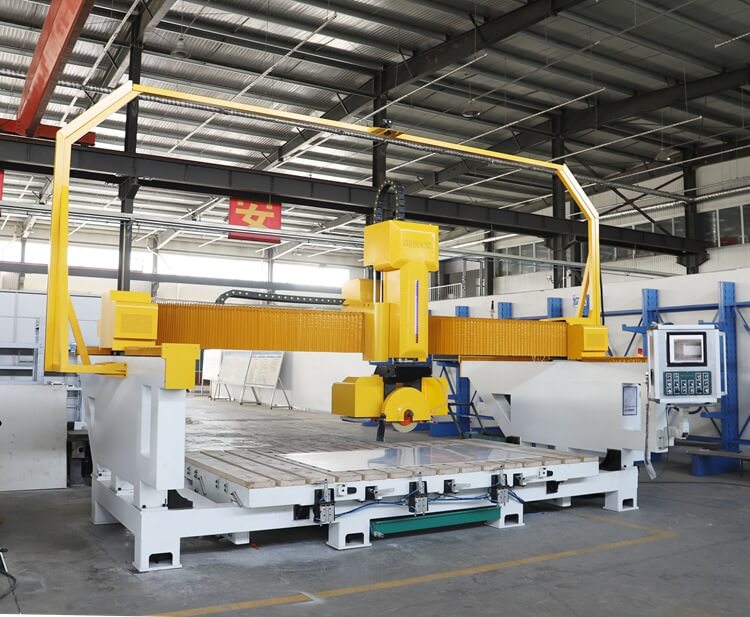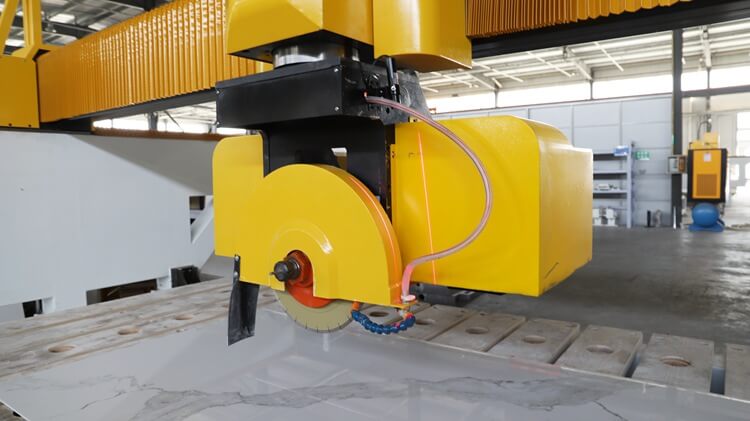 5 axis CNC bridge saw adopts a PC-based five-axis linkage numerical control system for stone machining. The tool is controlled by three linear axes and two rotary axes, and the two rotary axes rotate around the X axis and the Z axis respectively. The automatic function of cutting, engraving and milling with complex pentahedral features is mainly used for the processing of high-quality stone decoration with complex surfaces in multi-dimensional space. The stone industry has undergone many product technological changes. The technical characteristics and advantages of the processing equipment whose tool motion trajectory is controlled by 5-axis and 6-axis linkages are becoming more and more obvious. The CNC five-axis bridge stone cutting machine is a professional stone machining equipment with outstanding flexible manufacturing ability and high automation, which uses a diamond disc saw blade as the main cutting tool.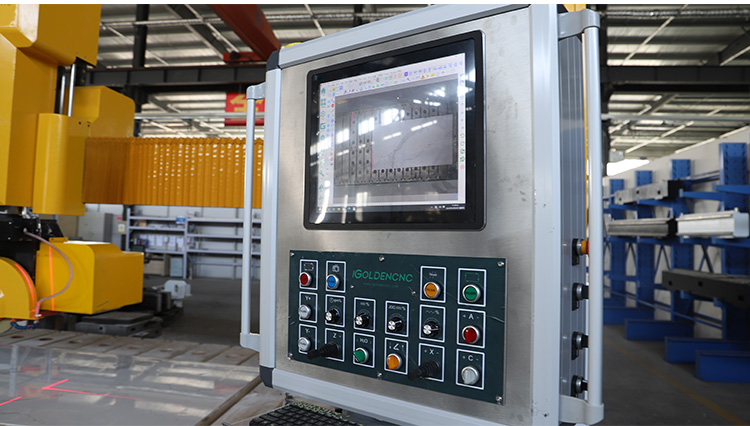 5 axis CNC stone cutting bridge saw adopts an automatic computer control system, which can realize manual programming or CNC programming and other programming methods to automatically complete cutting operations.
5 Axis CNC Stone Cutting Bridge Saw Features
1. It adopts 5 axis bridge cutting head, which is independently researched and developed and adopts the cast rotating bracket. This ensures good stability and flexibility during operation.
2. This bridge saw uses a high-precision RV reducer, ensuring better rotating precision of the cutting head.
3. It has built-in CAM software in the control system for the convenient of drawing designs and programming. Besides, it's easy to learn the software to make designs.
4. The worktable can flip automatically up to 80 degrees, reducing human labor and facilitating the unloading process.
5. It is capable of cutting lengths of up to 2800mm, widths of 1200mm and thicknesses of 100mm.
6. The table automatically tilts up to 80 degrees. And the spindle is automatically rotated 90° or 360°by hydraulic pressure.
Main Configuration
Name
Manufacturer/Brand
Body
Heavy duty bed
Gantry
Steel structure
Table
Automatic copy flip feeding
Guide rail
Taiwan hiwin 35 guide rail
Rack
Taiwan YYC 2M
Screw
Taiwan TBI screw5010
Motor
VEICHI
System
Cutcam
Water pump
Standard
Water pipe
12 meters long, 16mm in diameter
Standard configuration function
Laser positioning, table flip, cutter, can cut square,
round, horse belly side cutting, 45 degree cutting,
Taichung basin cutting, Yin Angle drilling and milling, milling cutter opening
Optional Functions
Suction cup displacement, photo layout, inverter,
transformer, clean installation and measurement software
5 Axis CNC Stone Cutting Bridge Saw Application
The 5 axis CNC bridge saw can cut any shape of stone lines, arc edges, duckbill edges, straight edges, beveled edges, non-slip grooves, dry hanging grooves, sink processing, and special-shaped edge forming.
1. Countertop cut: blank slab cutting, rear gear cutting, reverse buckle cutting, hanging material, L-shaped table to length, corner cutting reserved, 45-degree chamfered front mouth, pot hole, stove hole, Diagonal line cutting, cutting at any angle of the wall crenel.
2. Automatic cut: Realize the import of CAD drawings, cutting completely according to the drawing style, no need to enter complex data.
3. Bridge cut: It has all the functions of bridge cutting equipment on the market.
4. Roman column cut: Cut the square Roman column main board and both sides at one time, and simultaneously chamfer 45 degrees on both sides to complete the Roman column hole cutting.
5. Arc-shaped line cut: Install the line grinding head to complete the arc-shaped line shape, and cut into a rough arc-shaped line as a whole, which requires manual polishing.
6. Concave-convex cut: According to the arc, grind out the desired convex or concave plate. It is mainly used for grinding and making curved plates of special-shaped background walls or special-shaped decorative panels.
7. Abnormity cut: To solve the problem of uneven walls, cut out asymmetric quadrilaterals or isosceles trapezoids.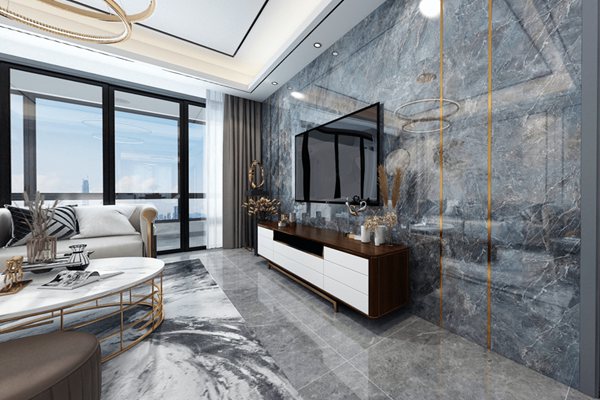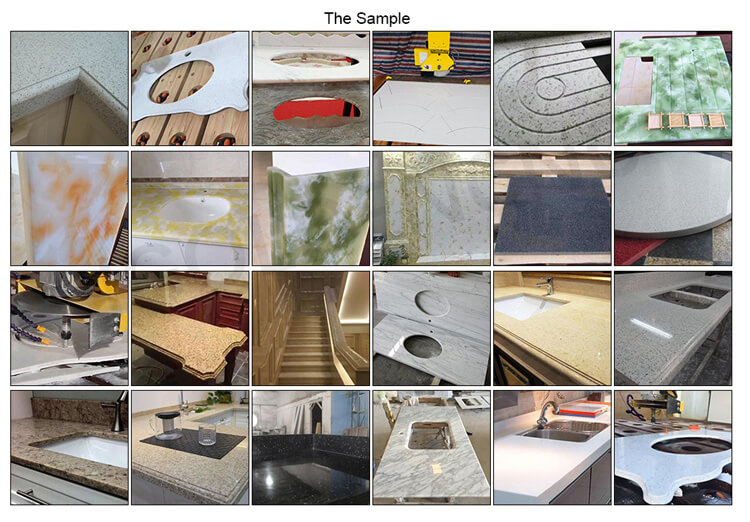 FREQUENT ASKED QUESTIONS
What machining processes can this machine complete?
It can complete edge milling, curved edge cutting, countertop cutting and milling, inclined edge cutting, arc edge cutting and milling, wash basin cutting and other processes.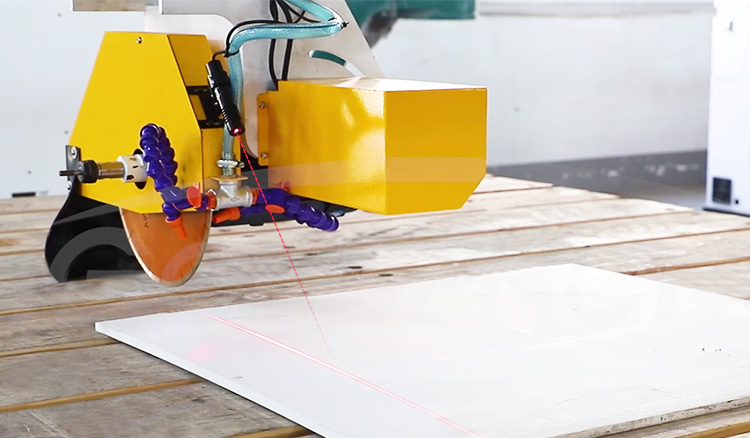 What software and control system does it use?
This 5 axis stone bridge saw is provided with a built-in CAM software with customized control system dedicated for stone CNC machine. The interface is human friendly, so it is easy to learn and operate.
Can the worktable rotate?
Yes, the worktable of this machine can flip up to 80 degrees to facilitate the unloading of stone slabs. It also improves work efficiency and saves human labor.