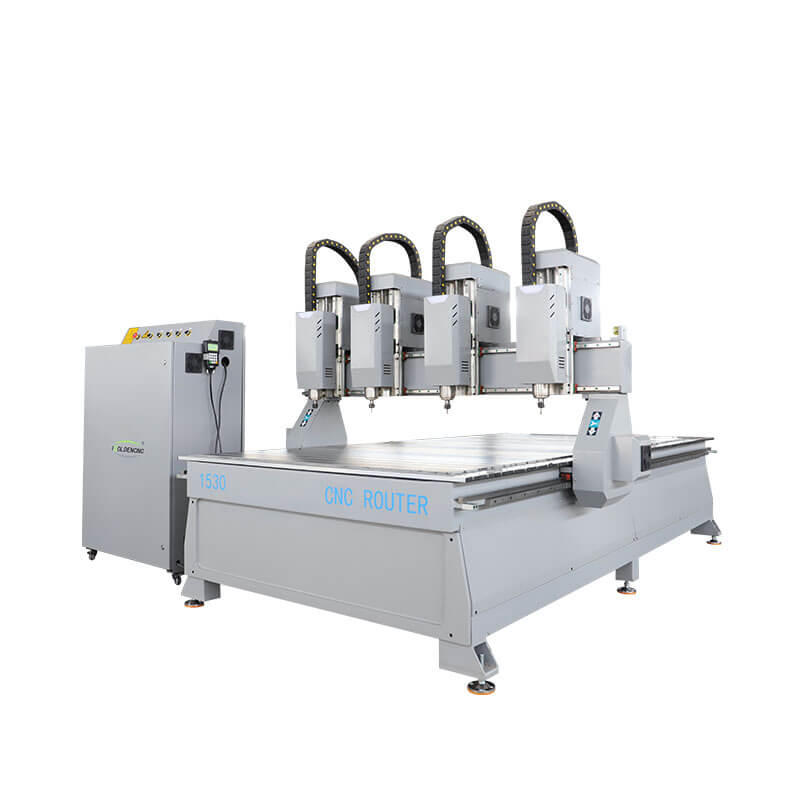 Four Head Woodworking CNC Router
3d woodworking carving machine cnc router with 4 head suitable for solid wood and composite doors, cabinet doors, large-scale plate engraving, real wood carving flower router milling, plate furniture carving, antique mahogany furniture carving, solid wood art mural sculpture and other industries, watch box, craft photo frame, calligraphy plaque, electrical counter face, sporting goods equipment, thin aluminum engraving and milling carving.This four heads cnc router is a multi heads cnc router equipped with 4 independent heads, each head is driven by one set X and one set Z motor and driver separately. It is great for heavy cutting, such as slatwall cutting, wood cutting.
Wood CNC Machine iGC-LT Video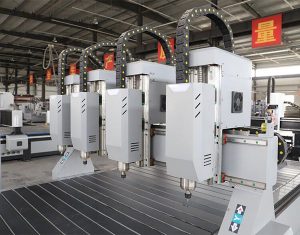 2.2kw *4 HQD water cooled spindle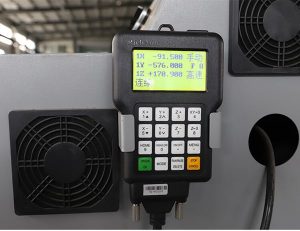 DSP control system,more convenient operation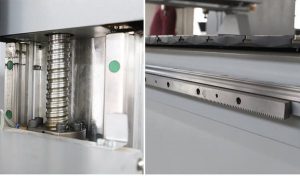 XY axis is helical rack and gear,Z axis Ball Screw,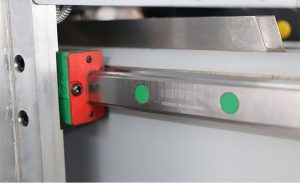 Taiwan Hiwin Line 20mm Square guide way
Wood CNC Machine Parameter
Technical Data
Product
3 Axis CNC Router with four-spindle
Item No.
iGW-3AD4
Machine
Machine Body
Square Tube Welding Structure
Gantry
Steel Structure
Spindle
HQD 2.2kw Water Cooling*2
Worktable
Aluminium Profile Clamping Table
Guide Rails
Taiwan HIWIN
Rack
Taiwan XINYUE
Ball Screw
Taiwan TBI
Electronic
Driver
LEADSHINE Step Drive and Stepper Motor
Reducer
Japan SHIMPO
Frequency Converter
FULING
Electrical Components
France SCHNEIDER
Oiling
Lubrication System
Manual (Automatic Optioned)
Software
Intelligent Control System
DSP Control System
Optioned
Spindle
Italy HSD Spindle
Driver
Japan YASKAWA Servo Drive and Servo Motor
Tool Sensor
Automatic
Vacuum Pump
5.5kw Air-cooling/ Water-cooling
Intelligent Control System
Weihong NC-STUDIO
Worktable
Vacuum Suction Table
We offer customized services according to your requests such as the working area and specifications.
Applications Of CNC Woodworking Machine:
1. Furniture: cabinet doors, solid wood doors, craft wooden doors, paint-free doors, screens, craft fan windows, tables, chairs, etc. Wooden door cutting, wooden door artwork carving, wave board, 3d photo carving, small or large relief works, cylindrical wood carving, 3d photo carving, etc.
2. Advertising industry: advertising signs and logos, decorative products, wood, medium density fiberboard, bamboo, plastic, PVC, acrylic, metal, stone, etc.
3. Art industry: character carving, character carving and cutting, famous brand making, small gift cutting, souvenir making, carving various decorative letters, small windows, fences, figures on walls, etc.
4. Model making: engraving metal molds such as copper, aluminum and iron, as well as non-metal molds such as marble, sandstone, plastic plates, PVC pipes and wood panels.
5. Other industries: CNC wood engraving machine can engrave all kinds of large reliefs and shadows, which are widely used in craft gift industry.
Suitable Material of Linear ATC CNC Woodworking Router
Wood: Plywood, Soft Wood, Hard Wood, MDF, Chipboard
Plastic: Acrylic, ABS, HDPE, PVC, UHMW, HDPE
Stone: Granite, Marble, Slate, Basalt, Pebbles, Natural Stone, Ceramic, Porcelain
Soft Metal: Aluminium, Brass, Copper, Mild Steel
Composite: Aluminium Composite, Copper Composite, Titanium Composite, Zinc Composite.
Contact Us Today to Get Price!