Automatic Edgebander Return Conveyor
This is an automatic edge banding machine circular production line. It consists of a fully auto edge banding machine and auxiliary belt conveyor platforms. One operator is required to run this production line, which significantly improves the edge banding efficiency and reduces labor costs.
As a cost-effective fully automatic edge banding machine, it can complete gluing, banding, edge cutting, rough trimming, fine trimming, tracking, scraping and polishing functions automatically. 
Edgebanding machine Parameter
Technical Data
| | |
| --- | --- |
| Specific functions | pre-milling, gluing 1, pressing belt 1, gluing 2, pressing belt 2, end cutting, rough trimming, finishing, profiling tracking, edge scraping, polishing 1, polishing 2 |
| Sheet thickness | 9-60mm |
| Minimum processing width of sheet | ≥80mm |
| Minimum processing length of sheet | ≥120mm |
| Edge banding width | 15-55mm |
| Conveyor belt power | 3.7kw |
| Feeding speed | 15~22m/min |
| Total power | 20kw |
| Dimensions | 8100*900*1600mm |
| Weight | 2600kg |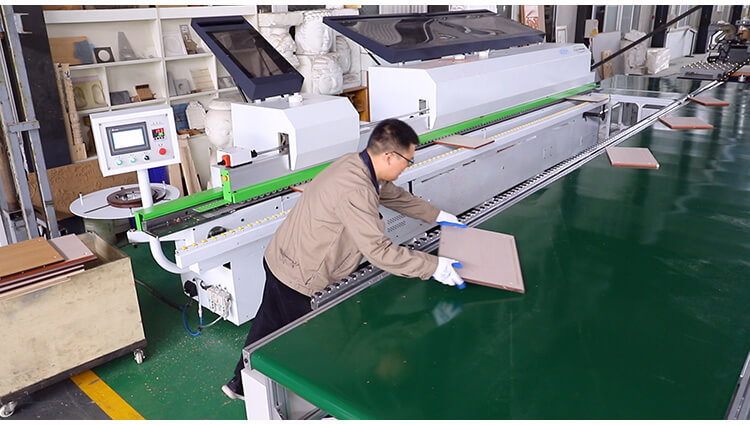 Edge Banding Circular Production Line
1. This line consists of one automatic edge banding machine and several belt conveyor platforms. It is very easy and convenient to operate this production line.
2. The edge banding machine can complete multiple functions automatically, include gluing, banding, end cutting, rough and fine trimming, profile tracking, scraping, and polishing. 

Double glue pot
Non-sticky pot, uniform sol, cylinder control pressure roller, better tape effect.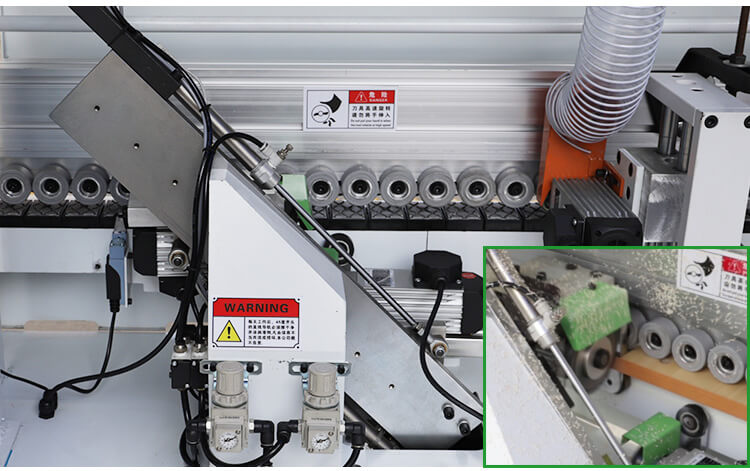 End cutting

Through the structure of automatic profiling and high-frequency high-speed motor, the redundant edge bands before and after are cut off to ensure a smooth and smooth section.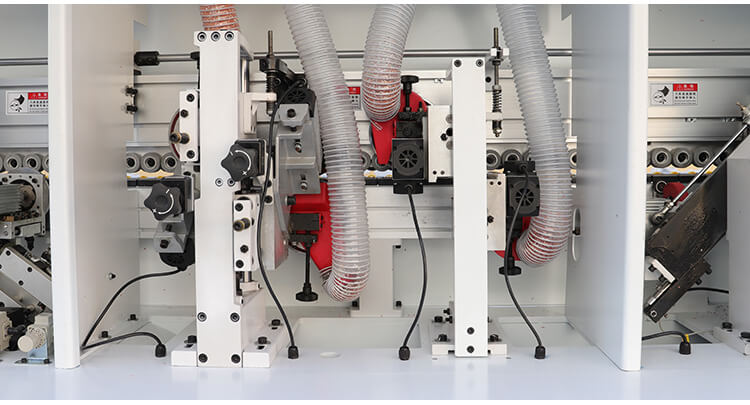 Rough trim : The rough trimming knife is a flat knife, which is used to trim the excess edgebanding material on the upper and lower parts of the processed sheet edge band, so that the upper and lower parts of the trimmed sheet are smooth and smooth.
Fine trim : The finishing knife is an oblique repair, used to repair the excess edge banding material after rough repair on the upper and lower parts of the processed sheet edge band, and at the same time, make the natural transition between the sheet material and the edge band in an arc shape.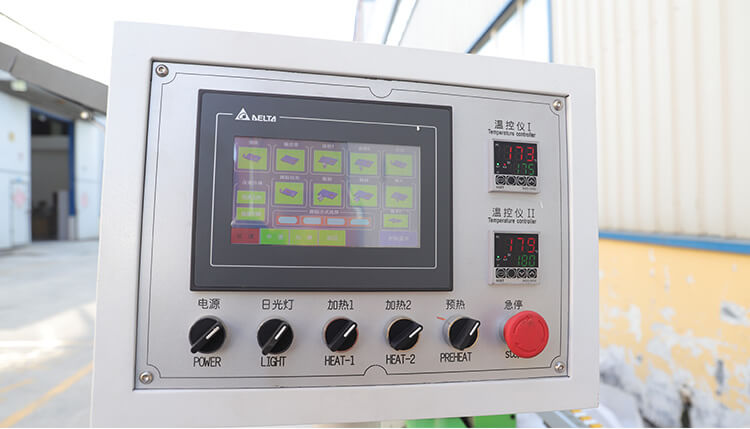 DEITA PLC control system
The independent LCD screen has a touch screen speed control function, and you can see the operation process of the machine more clearly, real-time monitoring, real-time adjustment, and more precise.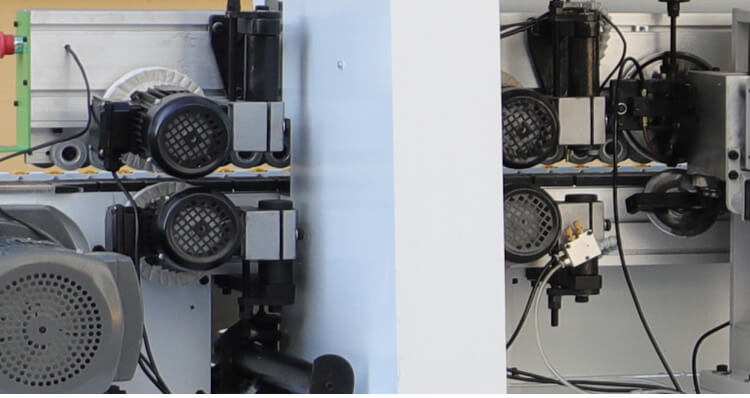 Pre-milling
When the edge-sealing surface of the plate is not flat, it can be milled first and then glued and pressed.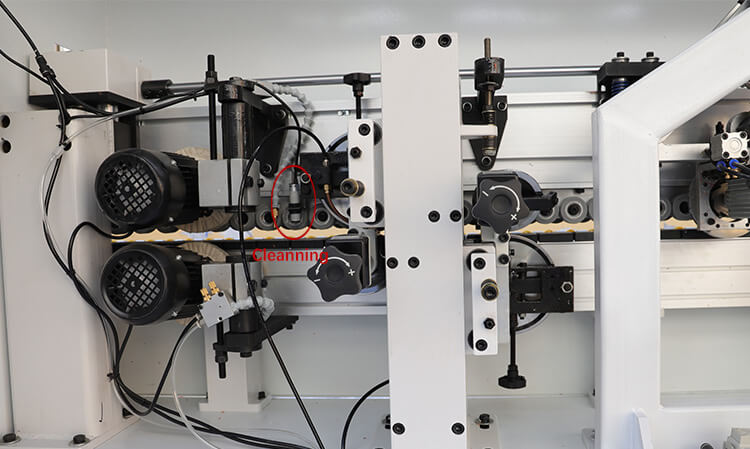 Scraping and Cleanning
It is used to eliminate the ripple marks (cut marks left by the trimming knife and the finishing fillet) caused by the non-linear motion cutting process of the trimming.
Automatic Edge Banding Machine
Edge banding machines are mainly used for banding the edges of various panel furniture. For instance, cabinets, wardrobes, shelves, custom furniture, office furniture, tables, chairs, windows, doors, cupboards, and other wood products.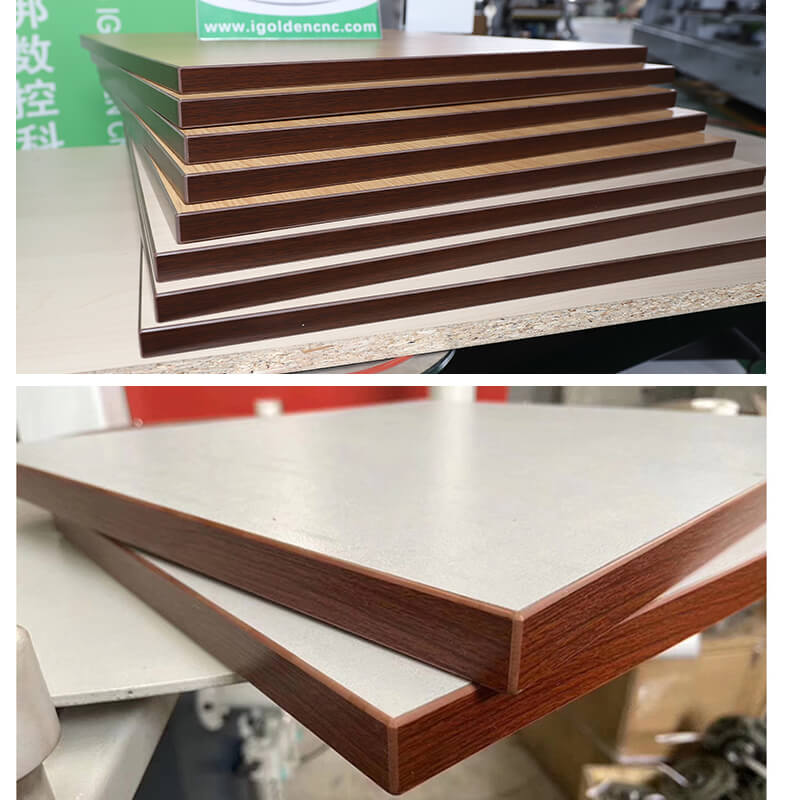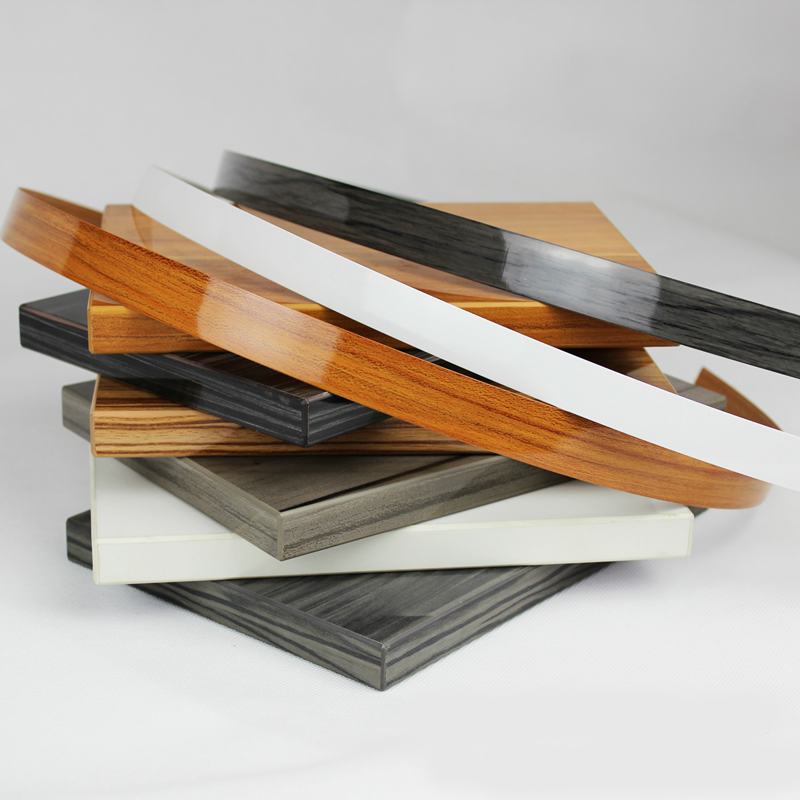 Contact Us Today to Get Price!