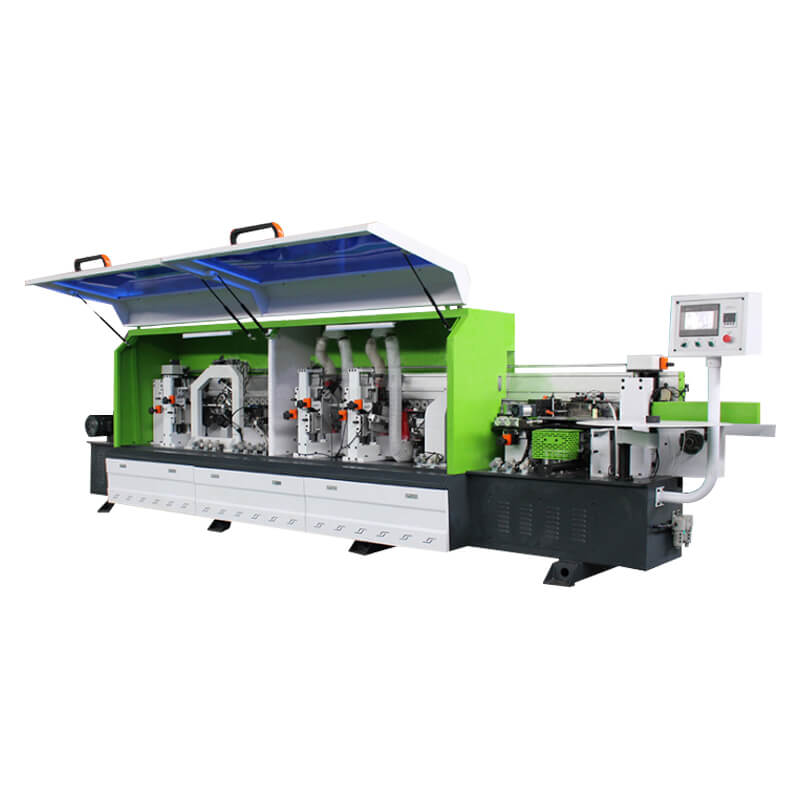 Auto Double Repair Edge Banding Machine
The edge banding machine is a kind of woodworking machinery and an important processing flow of furniture production line. It is used to repair excess edge banding material above and below the edge band of the plate.
This is a fully automatic edge banding machine with the characteristics of high automation, high efficiency, high precision and beautiful appearance. It can complete the functions of gluing, edge banding, end cutting, rough trimming, fine trimming, scraping, polishing, etc.Equipped with a fully enclosed safety shield, it can ensure operator safety and protect the environment.
Edge Banding Machine Video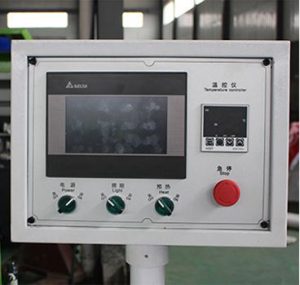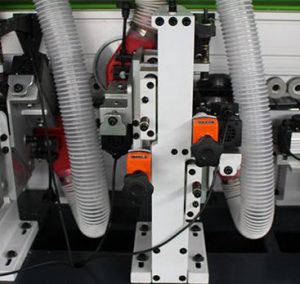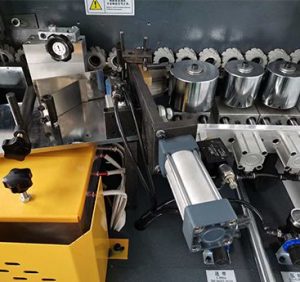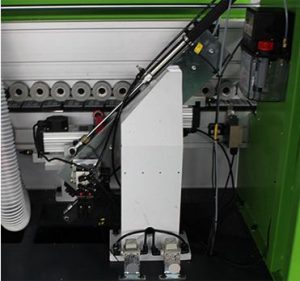 Edge Banding Machine Parameter
Technical Data
| | |
| --- | --- |
| Specific functions | pre-milling, gluing 1, pressing belt 1, gluing 2, pressing belt 2, end cutting, rough trimming, finishing, profiling tracking, edge scraping, polishing 1, polishing 2 |
| Sheet thickness | 9-60mm |
| Minimum processing width of sheet | ≥80mm |
| Minimum processing length of sheet | ≥120mm |
| Edge banding width | 15-55mm |
| Conveyor belt power | 3.7kw |
| Feeding speed | 15~22m/min |
| Total power | 20kw |
| Dimensions | 7900*900*1600mm |
| Weight | 2600kg |
We offer customized services according to your requests such as the working area and specifications.
Applications Of Edge Banding Machine
Edge banding machines are mainly used for banding the edges of various panel furniture. For instance, cabinets, wardrobes, shelves, custom furniture, office furniture, tables, chairs, windows, doors, cupboards, and other wood products.This machine is suitable for linear edge banding and edge banding materials of solid wood board, fiberboard, particle board and other plate workpieces.
Available solid wood strips, pvc, melamine, veneer strips, etc.
Contact Us Today to Get Price!
Edge Banding Machines Wood Features:
Pre-milling: Double milling cutters are used to modify the ripple marks, burrs or non-vertical phenomenon caused by the panel saw processing to achieve better edge sealing effect and to make the edge band and the board more tightly fit, better integrity and aesthetics.
Adhesive edge banding: Adopting a special structure, evenly apply adhesive on both sides of the edge banding plate and edge banding material to ensure a stronger adhesion.
Head-to-head: through precise linear guide rail movement, adopts automatic tracking of the mold and high-frequency high-speed motor fast cutting structure to ensure the cut surface is smooth and smooth.
Finishing: Both the profile automatic tracking and high-frequency high-speed motor structure are used to ensure the smoothness of the upper and lower parts of the trimmed board. It is used to repair excess edge banding material above and below the edge band of the plate. The finishing knife is an R-shaped knife. It is mainly used for PVC and acrylic edge banding for panel furniture. Edge banding with thickness of 0.8 mm or more is preferred.
Scraping: Used to eliminate the ripple marks caused by the non-linear motion of the trimming process, so that the upper and lower parts of the board are smoother and cleaner.
Polishing: Clean the processed sheet with a cotton polishing wheel, and make the edge sealing end surface smoother by polishing.
Slotting: It is used for direct slotting of wardrobe side panels, bottom plates, etc., reducing the process of panel sawing, and it is more convenient and fast. It can also be used for slotting of aluminum edging of door panels.